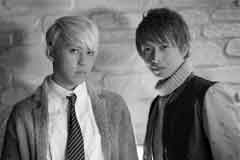 ミシマ MISHIMA
since 2007
vocal JOSEPH
vocal YUDAI
Formed in eastern Shizuoka prefecture in 2007.
Music style combining hip hop and rock.
In "Melody & rap full of code feeling" born from there,
they are deeply appreciative of my hometown where they were born and raised,
A warm heart-friendly love is full.
Even for the lyrics in which young emotions are stated as if they are life -
I want to pay much attention.
Formed in 2007 by Yuki Shimada, ume ☆, BIG.D.
2008 SEIJI joins
Yuki Shimada graduated in 2010
Joseph joins 2013
2014 ume ☆ graduated
YUDAI joined 2015 SEIJI graduated
BIG.D graduated in 2016
YUDAI changed to Toco in 2023
Regular Radio program
Mishima will be the main personality
Mishima's MY HOMETOWN Radio 'MishiRadi'
Every Friday night at FM VOICE Q ~ broadcasting!
Regular TV program
Rediscovering local charm delivered by Mishima
Music information news program
"MishiRadi TV"
TOKAI cable network
Aomori Cable TV
Cable TV Akita
On air!