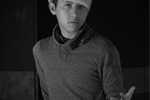 Joseph
JOSEPH
1986jan14 Blood type AB
Born in the Philippines
He like to sing since he was a student.
He met songs from Backstreet boys in high school and was hit by harmony.
After graduation, He can not forget the way of music though I get a job, He went to Tokyo only by myself. After working as a solo singer and a member of the dance vocal group, He meets Mishima who is playing in Mishima-City, Shizuoka prefecture.
And it reaches present.
With "everyone's best place" in mind, He is pursuing entertainment.
joined For style in 2020
Favorite artist
CHEMISTRY
BIGBANG
Backstreet boys
Blue
hobby
watching soccer , Animation